Drilling
Drilling EnduraPanel is easy, and professional results can be achieved following these guidelines:
Always drill into a sacrificial panel of MDF or similar
Many different drill forms have been assessed and work well but all should have the cutting edge ground off (blunt) so that the drill 'scrapes' rather than 'cuts' the EnduraPanel
High cutting speeds are advised. Be careful to back off the drilling pressure when breaking though the bottom of the hole
DRILL GEOMETRY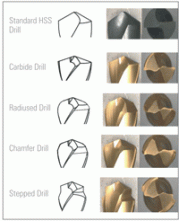 MACHINE DRILLING
Specialised drills are available for drilling EnduraPanel.
Most are designed to be used in either CNC machinery or at least a drill press.
HAND DRILLING
In most site applications, drill bit options are minimal. In this case the best option is to use a blunt drill as shown.