Handling & Storage
Deliver EnduraPanel to site immediately before installation to reduce the risk of damage.
EnduraPanel must be kept dry, preferably by being stored inside a building and under cover. Where it is necessary to store EnduraPanel outside, it must be stacked off the ground and be fully protected from the weather.
EnduraPanel must be neatly stacked to avoid sheet distortion and damage. This can be achieved by stacking on a clean flat surface. Sheets stacked on a concrete floor must be separated from the floor surface by a moisture barrier such as a polythene sheet or placed on bearers (min 75 x 50).
When stacking high, ensure bearers are vertically in line to best distribute the load. Consider floor loadings as EnduraPanel weighs in the range of 1200kg/m³. Large or multiple stacks may quickly overload the flooring structure.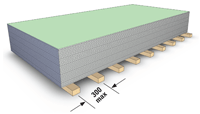 An EnduraPanel may be leaned against the wall where floor storage is unavailable. The maximum number of sheets that can be stacked this way is ten, before edge loading on the first sheet is considered excessive. To reduce the risk of toppling, the bottom of the first sheet must be placed 150 mm from the wall.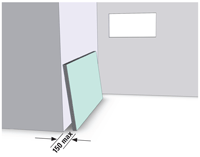 EnduraPanel is a finishing product and needs to be handled as such. Lift sheets from the stack rather than dragging them. This reduces the risk of edge and face damage. Carry EnduraPanel on edge. This is easier than carrying them on the flat and reduces the risk of damage.
Leave the protective film on the back until the sheet is ready for installation. Leave the front film on the panel until the last possible moment.